Flameless Electric Candles Look As Good As Real Ones
Battery operated candles can look every bit as lovely as real candles but they're safer use. They use LED lights so they're fairly cool to the touch. There's no risk of getting burned or setting the curtains on fire with LED candles. Also, no flame means no smoke. If you have asthma or allergies, flameless candles would be perfect for you since there's no smoke to aggravate your breathing problems. They also last longer. The wax doesn't melt away as with a regular candle. You just have to change the batteries occasionally and you'll be able to use your flameless candle for years.
Here are some lovely flameless candles for you to consider. Whether you want white pillar candles or colored candles or ones made in cute shapes, you'll find them all here. These are the best deals on battery operated candles that you're going to find and there are tons to choose from.
If you like the pendulum clock to the left,
you can get it here from Amazon:
Lily's Home Everlasting Flameless Pillar LED Candle Set

White & Cream Colored LED Candles
These candles all have a neutral color that can go with any decor. You could use them in the bedroom or the living room or anywhere. They come in varying heights and shades and some have timers and remote controls so you don't even have to worry about getting up to turn them off.
Round 6-Inch Pillar Candle, Cream or White
Inglow Flameless Mini Hurricanes, Vanilla Scented, Cream, 2-Pack
3 Outdoor/Indoor Candles With Remote Control & Timer
---
More Brightly Colored Flameless Candles
White candles are nice. But if you want your candles to add some color to your decor, here are several nice ones in a variety of colors.
Set of 3 Metallic Candles With Auto Timer Option
Cranberry Mottled, Bayberry Scented With 3 Level Timer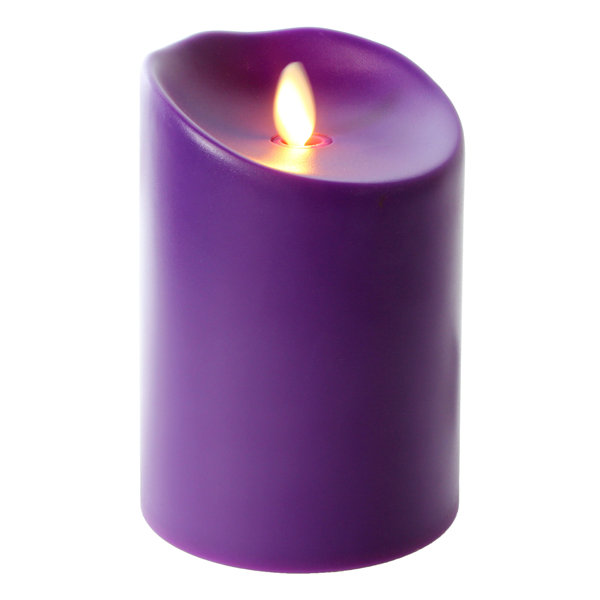 Purple Pillar Candle – Available in several colors
&
---
Flameless Candles With Colored Lights
As an interesting twist on the usual, how about white candles with colored bulbs inside them? When these are turned off, they are a nice looking, but not obvious, part of your decor. But when you turn them on, they look really special.
3 Outdoor/Indoor Color Changing Candles With Remote Control & Timer
Set of 3 Color Changing Mood Candles With Multi-Function Remote Control
Flameless Color-changing Tealight Candles, Four Dozen Pack
---
Decorated Flameless Candles
If you prefer decorated candles, maybe you'd like one with shells in it or butterflies on it.
&
---
Rechargeable Flameless Candles
If you'd rather skip having to buy and change batteries for your flameless candles, that can be arranged. All of the candles below come with chargers. Whenever you're not using your candles, just set them in the charger and they'll be ready the next time you are.
See more rechargeable flameless candles here:
Rechargeable Flameless Candles
&
---
Discounted Flameless Candles
There are plenty of battery operated candles on eBay:

---
Didn't Find What You Were Looking For?
Search For More Flameless Candles Here
See more flameless candles here:
Flameless Candles
---
You Might Also Like: