Make Your Patio A Little Better With A Nice Rug
These beautiful rugs are all designed for outdoor use. If they get rained on, it won't hurt them. Even better—if you spill something on them, you can just hose them off.
If you want your outdoor living space to be as nice as your indoor living space, it's better to have a little more than just a couple of lawn chairs. With some patio furniture, one of these rugs would make your patio the perfect place to spend a nice evening.
Here are some lovely patio rugs for you to consider. Regardless of what size or color you want, you'll find them all here. These are the best deals on patio rugs that you're going to find and there are tons to choose from.
If you like the patio rug to the left,
you can get it here from Amazon:
Mad Mats Floral Indoor/Outdoor Floor Mat

Smaller Patio Rugs
All of the rugs pictured here are 4′ x 6′. They aren't big enough to cover a large space, but they're the perfect size for putting down in front of your lawn furniture to liven up the area. They're brightly colored with interesting designs that really stand out and make your patio beautiful.
All of these rugs come in other sizes if you want them bigger or smaller. If you think 4′ x 6′ is the perfect size, but you don't see a design here that you like, you can see more 4′ x 6′ size patio rugs here:

4′ x 6′ Patio Rugs
Cancun Indoor/Outdoor Rug, Turquoise and Moss Green
Tangier Indoor/Outdoor Rug, Celery and White
Mad Mats Stripes Indoor/Outdoor Floor Mat
Murano Indoor/Outdoor Rug, Lime Green and Cream
Bali Indoor/Outdoor Rug, Forest Green and Cream
Maui Indoor/Outdoor Rug, Black and Cream
---
Big Patio Rugs
If you prefer a patio rug that covers more space, these are all 9′ x 12′. A rug this big will cover most of an average patio area. It would be like having wall to wall carpeting.
As with the rugs above, these designs all come in different sizes and if you'd like to see some different designs, they're right here:

9′ x 12′ Patio Rugs
Persimmon Area Rug
Tilly Area Rug
Kenilworth Indoor/outdoor Hooked Area Rug
Pueblo Outdoor Area Rug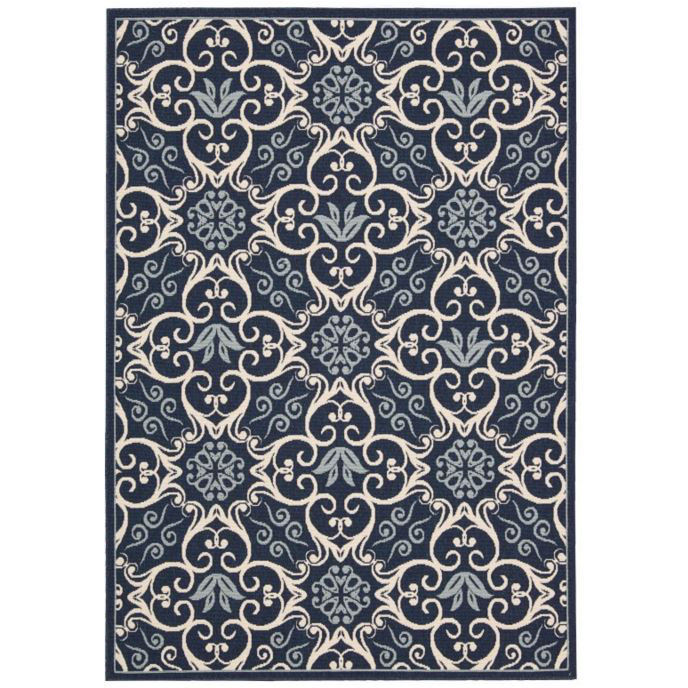 Castine Navy Area Rug
Caribbean Ivory/Blue Area Rug
&
Just because a patio rug can go outside, doesn't mean it has to. These rugs are also great for basements or garages because they're more durable and you can just hose them off if they get dirty. Also, there's no reason why you can't use one of these inside. They look great and no one will ever know they were intended for outdoor use.
---
Discounted Patio Rugs
See all of eBay's patio rugs here:
Patio Rugs
---
Didn't Find What You Were Looking For?
Search For More Patio Rugs Here
See more patio rugs here:
Patio Rugs
---
You Might Also Like: